Saint George was a Roman military of Greek descent, who became an officer from Emperor Diocletian for his courage and heroism.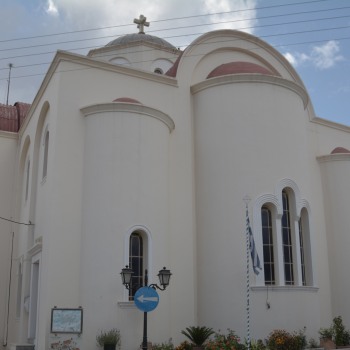 But when the persecutions of Diocletian began, George did not hesitate to confess his Christian faith, provoking the Emperor's mood. After a series of horrendous tortures that God kept miraculously alive, George martyred with beheading on Friday, April 23, 303 AD.
The icon of this heroic Saint was found in an unknown way in the village of Agios Georgios, where the church was built. According to tradition, the church was built with firman in just one day. When the Christian Lassiths asked the Ottoman governor to build the church, he allowed them if they built it only in one day. The Cretans were then placed in a row and hand-handed stones from the hill of Kefalas, they built the church at sunset.
At the foundation of this church is the present church of Saint George, which also gave the village name. The architecture of the church is post-Byzantine and stands with its tall bell towers in the lower neighborhood of the village.