One of the most famous and important points of the village of Magoula, a source of life for the place itself and for its people is Megali Vrisi, one of the two fountains that feed the village.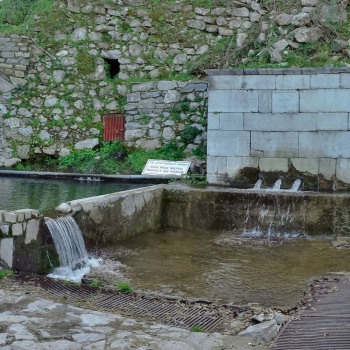 The original fountain was a simple source whose water was considered one of the best in the area. According to the tradition, the Ottoman governor of the region, Chanalis Hasan Agas, built his Tower next to the source and even had asked to bring the water to his home in Heraklion. Because of his summer residence, the place was called "Hanani the Fountain", which was later changed to its current name.
After the revolution of the Lassithi against the Ottomans, the construction of the fountain began, which was completed in 1879. The architecture of the fountain is of great interest, as the inhabitants apart from the external decoration and the appearance of the fountain, of the rock to drive the water out. At the beginning of the 20th century two cisterns were added, with washing machines and a channel of water around them, so all the village women went to clean their clothes.
Megali Vrissi is accessible today either by walking from Agios Spyridonas or by car following the uphill road opposite the tavern of the village "Dionyssos".